Carson Kreitzer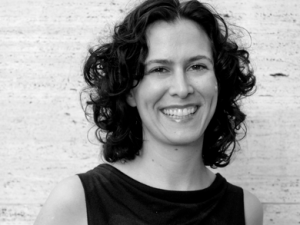 Carson Kreitzer is a playwright best known for "The Love Song of J. Robert Oppenheimer," which won the Lois and Richard Rosenthal New Play Prize, the American Theatre Critics' Steinberg Citation, the Barrie Stavis Award, and is published in Smith and Kraus's New Playwrights: Best Plays of 2004 and by Dramatic Publishing. Her previous work, "self defense or death of some salesmen" has been produced across the country, and is published by Playscripts and in Smith and Kraus's Women Playwrights: Best Plays of 2002. Other work by Kreitzer includes "Behind the Eye," "1:23," "Flesh and the Desert" and "The Slow Drag" (New York and London). Kreitzer's "Freakshow," "Slither," "Dead Wait" and "Take My Breath Away" were featured in BAM's 1997 Next Wave Festival.
Kreitzer is a New Dramatists alumna, an associated artist with Clubbed Thumb and New Georges, a member of The Workhaus Collective and the Dramatists Guild, and is a core member and current board member of The Playwrights' Center. She recently finished a year as the first Playwrights of New York (pony) Fellow at the Lark Play Development Center and a year as a McKnight Fellow in Minneapolis. She and composer Matt Gould are currently under commission from Yale Rep and New Dramatists for their new musical "lempicka." She is also writing a new play for the Guthrie Theatre, and recently traveled to Ireland as a Dowling Annaghmakerrig Fellow. Kreitzer has enjoyed support from the Jerome and McKnight foundations, the NEA, and the Toulmin Foundation.
Kreitzer's most recent play, "Lasso of Truth," explores the origins of Wonder Woman and was a National New Play Network Rolling world premiere, with productions at Marin Theatre Company, and 2014 premieres at Synchronicity Theatre in Atlanta and Unicorn Theatre in Kansas City.