Stella Parks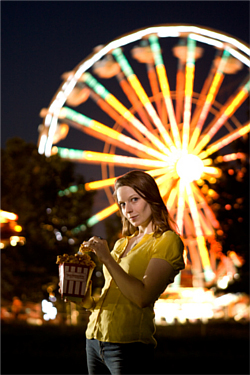 "So, I'm Stella Parks. I graduated from the Culinary Institute of America in 2002. After a few years working in some really terrific restaurants, I had a quarter life crisis. Did I really want to play with chocolate for a living? So I gave my notice, cashed out my savings, and moved to Tokyo.
Some people buy a fancy car. Some people have an irresponsible fling. Some people enroll in language school in Shinjuku. In any event, after a while I came to my senses and realized yes, of course I want to spend my life playing with chocolate. But instead of finding myself in debt for a Jaguar or nursing a broken heart, I gained functional fluency in Japanese. As far as life crises go, it was fairly productive. I moved back home and have spent every day since baking something.
I've worked as Pastry Girl at Table 310 since it opened in November 2010. My dessert menu there changes almost daily and if not for Kentucky's lack of native vanilla orchids, chocolate plantations, and citrus groves it would be entirely local. I make every element of my desserts by hand, from the sprinkles on the cupcakes to the peanut butter cups stirred into banana ice cream."