Wild Women of Poetry Slam
Wild Women of Poetry Slam / Faith A. Smith Poetry Prize
Curtain call for the Wild Women of Poetry at #KWWC2017: (left to right) headliner Olivia Gatwood, slammers Raych Jackson, Native Child Brown, Shay Alexi, Christina Boyd, Talicha J. and Lyric Leslie, with emcee Tyneka TSmilez McDaniel. Congrats to Talicha J. for winning the Faith A. Smith Poetry Prize and to first runner-up Raych Jackson. Huge thanks to our amazing sold-out audience of diverse people who appreciate spoken word.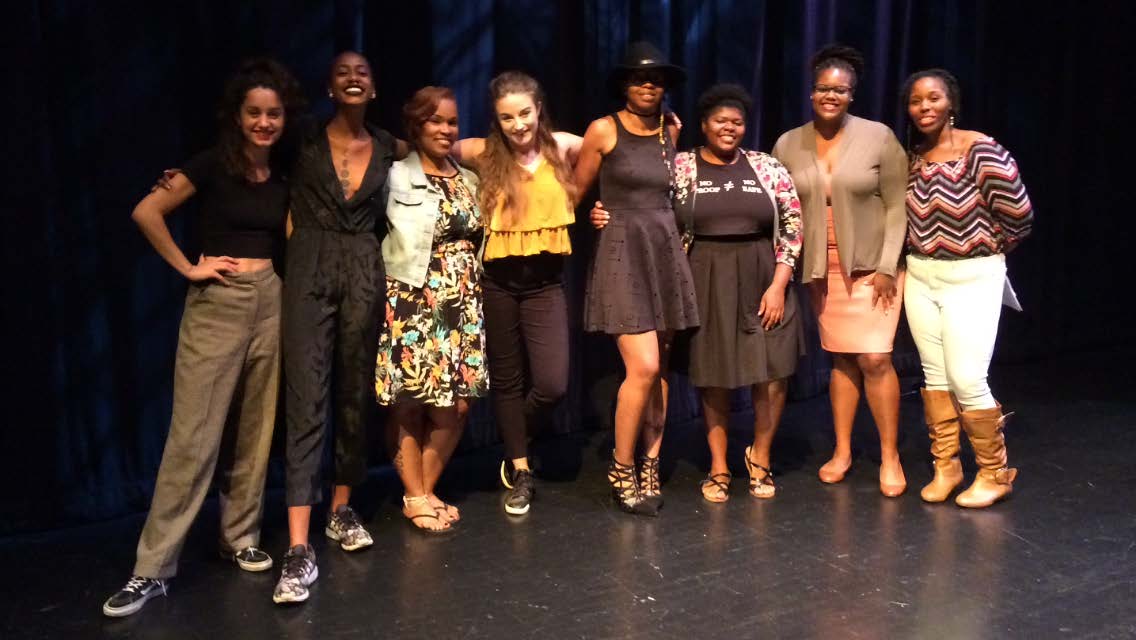 2017
We're thrilled to announce that in 2017 the Wild Women of Poetry Slam returns to the Downtown Arts Center on Saturday, Sept. 16, 2017, 7:30 p.m., with headliner and celebrity judge Olivia Gatwood, emcee TSmilez, and a line-up of 6 spoken word artists from across the United States:
Shay Alexi
Christina Boyd
Raych Jackson
Talicha Johnson
Joan "Lyric" Leslie
Native Child Brown (aka Kelly Mays)
These poets will compete for the Faith A. Smith Poetry Prize. The Faith A. Smith Poetry Prize, established in 2011 by Kentucky poet Frank X Walker in honor of his mother, is awarded to the winner of Wild Women of Poetry Slam. It carries a $500 cash award, and an existing prize of $200 is awarded to the runner-up, making the slam one of the most generous in the country, also furnishing a small stipend, a travel reimbursement, and conference passes to every competitor. The event is free admission, and an open mic at 7 p.m. will precede the competition. To sign up for the open mic, please contact Slam Coordinator sara.volpi@wku.edu.
Frank X Walker co-founded the Affrilachian Poets, is former Poet Laureate of Kentucky, and a Professor of English at the University of Kentucky. "I wanted to support the Gypsy Slam because anywhere there are women speaking with that much courage and conviction, it reminds me of my mother. She was a multi-disciplinary artist who celebrated creativity and social justice, and it's easy for me to imagine all the energy she and her fellow female Pentecostal ministers exhibited from the pulpit being redirected at a poetry slam that features women. She was always ahead of her time. She used to say that she was raising me to be a minister until she came to one of my poetry readings and decided that she had accomplished her goal."